The world was shocked to learn that over 200 people were killed and over 600 injured when suicide bombings rocked the tiny nation of Sri Lanka on Easter Sunday. The attacks were timed to cause maximum casualties, and targeted churches and hotels across the island.
President Trump tweeted out a message of support for the people of Sri Lanka. Unfortunately, President Trump mistakenly listed the number of casualties in Sri Lanka at 138 million.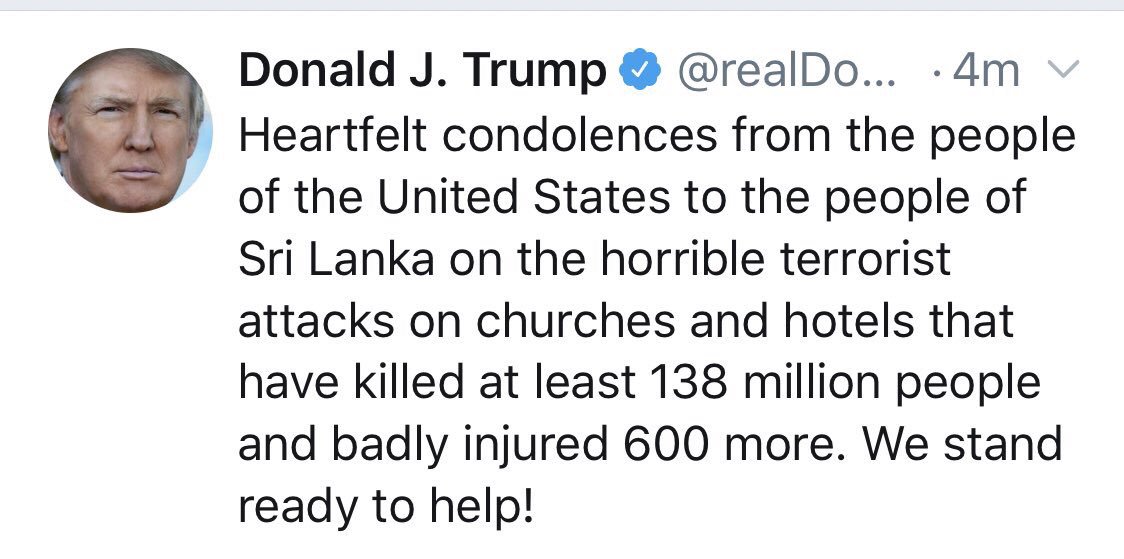 The tweet was an obvious mistake that was quickly deleted and corrected within half an hour.
138 people have been killed in Sri Lanka, with more that 600 badly injured, in a terrorist attack on churches and hotels. The United States offers heartfelt condolences to the great people of Sri Lanka. We stand ready to help!

— Donald J. Trump (@realDonaldTrump) April 21, 2019

Rather than accept the error and move on, however, evil Leftists took President Trump's message of support for the grieving citizens of Sri Lanka as yet another opportunity to attack Orange Man Bad.
you are a total fuck up pic.twitter.com/3RW9Gg7sds

— Adam Parkhomenko (@AdamParkhomenko) April 21, 2019
Lets not pretend you care about people. You can't even help our own in Puerto Rico or Flint.

— StanceGrounded (@_SJPeace_) April 21, 2019

This particular unhinged Leftist is referencing a Harvard study which estimated that over 3,000 people were killed in Puerto Rico by Hurricane Maria. The study was filled with garbage data and conducted by a team that never actually traveled to Puerto Rico to count actual bodies.
Not that facts matter. The narrative is that 3,000 people died in Puerto Rico because Orange Man Bad.
Can you find Sri Lanka on a map?

— Jocelyn (@JoceH) April 21, 2019

Spoken like someone who knows where Sri Lanka is because they Googled it.
You finally caught the error? What a stupid ass.

— Jeffrey Guterman (@JeffreyGuterman) April 21, 2019

No Trump thread would be complete without an appearance by America's most mentally unbalanced mental health "professional."
Great! But i'm struggling to find your condolences and offer to help a month ago when 160 civilians were slaughtered in an ethnically motivated attack on a village in Mali.
What's the differences between them and the people of Sri Lanka, i wonder?

— Pesky Sophophile (@MayorOfCarcosa) April 21, 2019

Great! I looked through your timeline and struggled to find…well, any mention of 160 civilians being slaughtered in an ethnically motivated attack on a village in Mali.
Lots of tweets blasting the man who killed 50 Muslims at a mosque in New Zealand, though.
What's the difference between them and the village in Mali, I wonder?
You should stand ready to get locked up.

— Thorsten (@Airvooocht) April 21, 2019

Trump: This was a horrible attack, and we're ready to assist Sri Lanka if they need us.
Crazed Leftist: LOCK UP ORANGE MAN BAD!!!!
Moron.
FIX FLINT'S WATER!
FIX FLINT'S WATER!
FIX FLINT'S WATER!
FIX FLINT'S WATER!
FIX FLINT'S WATER!

Your priorities need adjustment!

— Lady Eowyn Lancelot ⚔🗽 #NoWallEver🏛 (@Snarktopia) April 21, 2019

Over 200 people dead and over 600 people injured don't matter. Why? Because they're brown and live half a world away.
Meanwhile, Flint's water crisis was caused wholly by its corrupt, Democrat city government.
Methinks it's not President Trump whose priorities need adjusting.
You still haven't said anything about the black churches in Louisiana.

I wonder white that is. 🤔

— Santa Claus, CEO (@SantaInc) April 21, 2019

He does realize that Sri Lanka isn't a "white" country…right?
Donnie, we are worried about terrorists as well. You know, the ones who follow you??? pic.twitter.com/v39V5WCmmQ

— I luv being Teamster (@JimKilbane) April 21, 2019

I would think of a snappy come back to such a ridiculously moronic tweet.
Luckily, Sandy beat me to it.
So which ones followed him? Dont think twitter existed when half of these tragedies happened. Nor was he president. Is it white guilt or TDS? Or I know you could focus on rhe people of SL for what happened today instead of your skewed politics.

— Sandy (@sandyt0es) April 21, 2019
I wish the Left could focus on helping the victims of a tragedy rather than attacking President Trump. I even wish they were consistent in the tragedies they choose to use to savage President Trump.
Unfortunately, the Left abandoned reason long ago. They have completely given themselves over to rage and hate.
Leftist anger is a sad, dangerous thing.