Just a reminder that soon I'll be diminishing the number of these threads to probably once a month (outside of major hardware announcements like a new console or perhaps major tech news).
There is nothing really major this week, hence the more generic headline
What Are We Playing This Week?
Thanks to my 2 yr. old, I played a larger assortment of Atari titles on my Atari XEGS while also continuing my quest on Wyvern Tales for the Atari Lynx. I also dug up Manticore – Galaxy on Fire on my Switch to make a tiny bit of progress there. How about you?
Gaming Headlines
Sony Finally Caves On Fortnite Cross-Play
Mouse & Keyboard Support Come To Xbox One
Sega Is "Considering" Shenmue I & II On Switch – I don't care about the series and even I know this is easy money, c'mon
PS Vita Production Ending In Japan Next Year, No More Sony Handhelds Planned
Official Trailer #2 for Red Dead Redemption 2
Star Control: Origins Now Available – Actor Adam Baldwin lent his voice to this one, triggering SJWs everywhere
Here's Your Next Fan Project That Nintendo Will Probably Shut Down Post Haste (Mother 4)
The Atari 7800 Will Live Again With The Syzygy 3200 Console 
Epic Adds Boob Physics To Fortnite, Promptly Removes & Apologizes
Personal Assistant For Gearbox CEO Accused Of Being A Con Artist, Possible Life In Prison If Caught
Extremely Rare Atari 2500 Console Prototype Up On eBay
John Carmack Thinks The Oculus Quest Will Give The Switch A Run For It's Money – Lol, no
Game Design Legend Yu Suzuki Jumps Onto The VR Train
The PS4 Plus Lineup For October
Xbox Games With Gold Lineup for October
The Only Thing To Say About Nintendo's Bowsette Reaching Rule 34 Status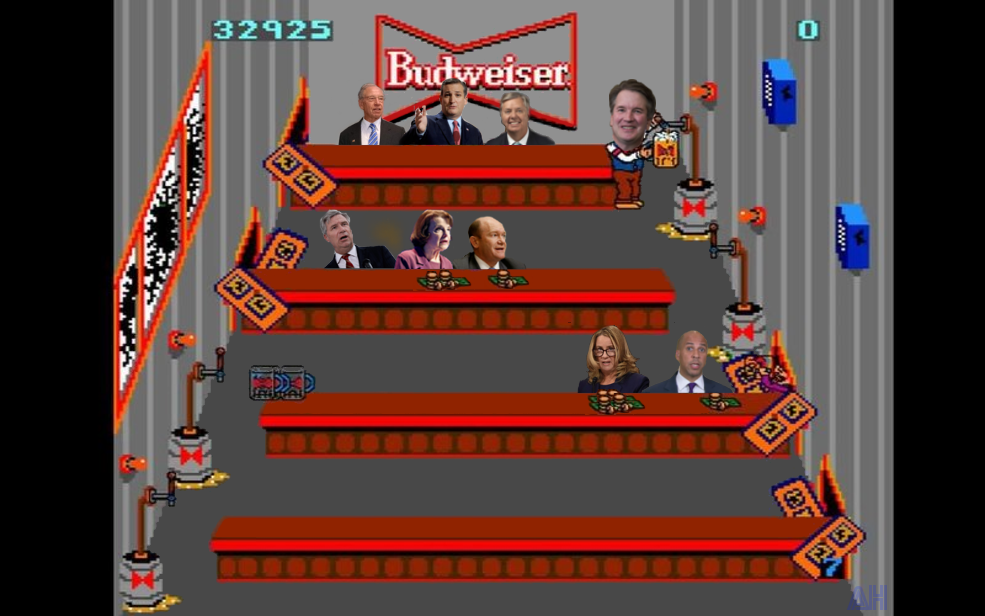 GAMING
CastleVania Requiem Launching On Oct. 26th – If you love CastleVania: Symphony of the Night and Rondo of Blood, then you're in luck, as both games are coming to the PS4.
Minecraft: Dungeons Coming In 2019 – Fans of Minecraft rejoice, as Mojang puts together something more akin to a game rather than just an open-ended sandbox. Although if it wasn't for the Minecraft name, I doubt it would be noticed. If you want to know about everything announced during the Minecon event this weekend, click here.
Codemasters Announces DiRT Rally 2.0 (PC/PS4/XB1) – Fans of Codemasters' work will be pleased to know that a new DiRT Rally is on it's way, headed to most consoles on Feb. 26th 2019. Here's the announcement trailer:
Game Music Of The Week – I hadn't done one of these in a while, but I launched a new Bitchute channel dedicated to nothing but video game music. Called Bits 'N Synths, it is dedicated to a collection of songs that come from games that I like. I'm not trying to upload all tracks of all songs to ever appear in a game. Just what I like. If the video isn't showing up below, click here to visit the channel.
Technology Headlines
California Wants To Regulate The Internet – Gotta keep the "Commiefornia" name strong
If You Like Your Privacy, Then Do Not Use Google Chrome – Or anything Google, if you can help it
Elon Musk's Odd Behavior Ends Up Costing Him Big Time
50 Million Facebook Accounts Exposed, Faces EU Fine
"Solar Roads Officially Suck" – Gee, what a surprise
Driverless Offices, Cafes, Healthcare & Farms?
I'd Avoid Visiting New Zealand If You Can Help It – $5000 Fine For Not Handing Over Your Passwords
NASA Moving Forward On Venus Rover Design, Seeking Mechanical Eye Submissions
NSA Worker Gets 5 1/2 Years For Taking Classified Documents Home – Obviously, not a Clinton
China Blinks In The Face Of Trump Unleashes Tariffs
"No corporate responsibility exists at Apple since Mr. Jobs' death"
TECHNOLOGY
SJW Leprosy Comes To Linux – The SJWs destroy everything that they touch, the newest example of that being the alternate operating system known as Linux. Dave Cullen describes what is going on here as SJWs begin to push out straight white males from contributing to the platform. The problem is that this could end up wrecking the OS – which is used by Android and many web servers – for a long time to come. Here's one example of a developer already ending his support for the Steam controller Linux build.
New Polymer Coating Can Cool Down Just About Anything – Engineers have developed a new spray-on coating that can cool down the covered object by using a principle known as passive daytime radiative cooling. You'll have to trudge through some GLOBALL WAHRMING nonsense in this article that gets into more detail about it, but aside from that, there are some interesting applications…I wonder if such a coating could work on the Venus rover that NASA is working on as mentioned in the headlines above 😉 You can also insta-trigger an SJW just by the title of this video alone…
Record Magnetic Field Generated In Electromagnetic Flux-Compression Experiment – Physicists at the The University of Tokyo put together this explosive experiment, resulting in the strongest controlled magnetic field ever. Sure, it only lasted for 100 microseconds, but that set a record for intensity and length. If you really want to learn more about it, here's the scientific paper with more.
Space Pr0n Of The Week: More From Ryugu: More images from the pair of rovers on the Rygu asteroid, designed by JAXA.