What's going on in Houston is interesting since they have useful data and maybe there's something to learn. Today they hit 100% ICU capacity.
There are a few interesting things. First, Covid-19 represents 28% of ICU admits. Secondly, they have an actual plan for handling more critical Covid-19 patients. This all seems credible (for a change.)
The Texas Medical Center issued this press release: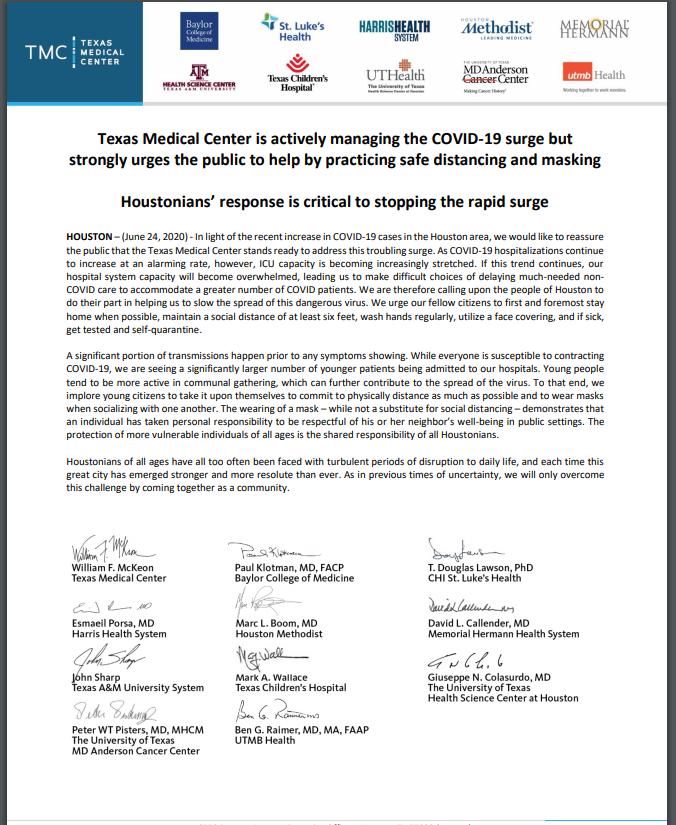 Saying that they're seeing more young people seems reasonable and likely (for a change). What's important to me here is the these young people are being admitted to the hospital and some are winding up in the ICU. This is not good.
What we don't know is the cause. Young people being irresponsible in their actions seems somewhat thin as an explanation and the usual blah-blah about masks and social distancing seems weak as well. I'd certainly like to know more how these folks are getting ill. We'll call this "contact tracing" for lack of a better name.
Something isn't passing the smell test and maybe that's on purpose. If the virus is more prevalent and longer lived in the environment, there may not be much anyone can do except stay out of the environment all together — and even that might not be good enough in the long run since the environment is kind of hard to escape. If so, all you can do is to continue to stick with the same shtick. At least they didn't decide we should all stick a silver bullet up our collective asses. (I was going to censor myself but decide 'what the hell.')
Officials believe the major contributing factor is the lack of social distancing. "We have data from some of the cell phone companies that show in Galveston County less than 7% of the people are social distancing," Keiser said.
Dr. Philip Keiser is with Galveston County's health department.
Well doesn't that bring up more questions than answers? Evidently the cell phone companies know your age and can tell that you're too close to people. Not only that, they can tell that you're too close to another person who they're simultaneously tracking! That's pretty bloody amazing if you ask me and I'm not too sure I'm all that happy about that.
NBC News had their take on it a couple of days ago.
I've seen bars and restaurants that look like it's New Year's Eve 1999 — not a care in the world, nobody wearing masks, standing shoulder to shoulder," said Dr. James McDeavitt, senior vice president and dean of clinical affairs at Baylor College of Medicine in Houston.

McDeavitt said Houston is seeing "very rapid increases" in new patients sick enough to be hospitalized, although the age range of the patients is unclear. However, most of those patients don't need intensive care or mechanical ventilation, McDeavitt said.

That suggests that current patients aren't quite as sick as those who fell ill in March and April. McDeavitt said that while it's true that doctors now have access to treatments like remdesivir and convalescent plasma, "our leading hypothesis is that we are probably seeing a slightly younger patient population."
To digress a bit, I'd like to slap around a few public health officials and scream at them "why didn't you have a system in place so you would stop saying you really don't know what's going on!" This really is a national scandal. In any instance, Houston has jumped up and said "we're going to be the second wave! Look at us! Look at us!" Well, fine, we're looking at you and we'll know in a couple of weeks whether you're totally full of shit or whether there's a real problem here.