That's perhaps the best way to start today's memes post, given the swaths of idiocy bubbling up on social media since last night.
In case you missed it, Mitch McConnell did sharp job of laying the Democrats to waste over their hysteria, and attack on our Constitution, with their despicable, foot-stomping behavior yesterday. In essence, it boils down to:
Has the House of Reps ever looked this stupid? I can't think of better example:
Except in this version, the Grinch's heart will stay frozen & small
Because:
And why are we at this point? Because Nancy wants to make morons like this happy for a few minutes:
So…spiders
Spot the problem (no, this was not doctored)
From all of the reviews I've watched so far about the Weekend At Palpatine's: The Rise of Soywoker, this cartoon is still accurate:
Also, congrats to Boris Johnson and the UK: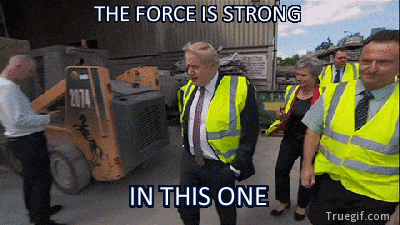 And one more for Star Wars:
The MAGAlorian pic.twitter.com/Sy26A6d59a

— Trump War Room (Text TRUMP to 88022) (@TrumpWarRoom) December 13, 2019
♪♫And then we're gonna party like its…19..99..doo-dooo-do-do-do♫♪
Reminder:
Speaker of the Derp
I GUESS PELOSI RAN OUT OF BOOZE…. #HANNITY @seanhannity @IngrahamAngle pic.twitter.com/MWqGBGAEl1

— Casey Warpath Janis (@cinders1313) December 17, 2019
Ok Spartans, let's see what you've got.