If you can believe CNN (NOTE), the midterm turnout was gigantic. Who didn't predict this? Well me, for one when I said:
Every midterm we talk about how important they are and how energized we are or aren't. The reality is that turnout for the midterms is 35%-ish with just a couple points separating the two parties.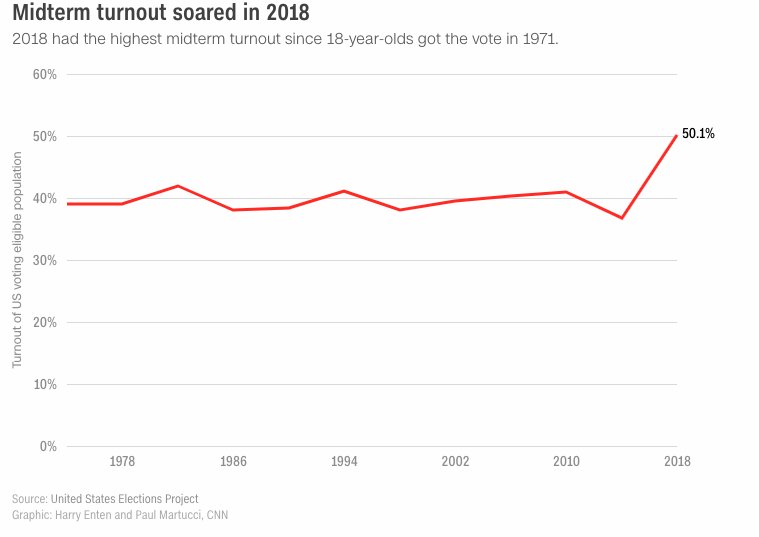 I'm still a little surprised but I suppose the reality is that a lot of people were motivated to "deliver a message to Donald Trump" either pro or con.
The 50.1% turnout is higher than for any midterm in the last 100 years. This despite the fact that many of those elections took place when those under 21 were not eligible to vote. Remember, those younger than 21 are the least likely to vote, so you'd expect that the the turnout rate of eligible voters would have been higher before the youngest were eligible (in years such as 2018).
We really don't know yet the breakdown is between the various parties and independents. Another important factor will be geography.
Barring any other revelations, I think we'll have to concede what is probably obvious at this point — the Democrats went all in and "Trump Derangement Syndrome" had its intended result at the ballot box.
President Trump did, in my view, everything humanly possibly to rally as many of the troops as he could and maintaining the Senate was certainly a gigantic win. Certainly he's solved any problem that existed with "voter apathy."
The Republican Party really mobilized . . no, that's not right . . . the Republican Party fully embraced the MAGA agenda and the President . . . no that's not right either . . . The Republican Party pretty much did what they always do and ran mediocre candidates with no real message much less a message to a country inflicted by Trump Derangement Syndrome.
Fortunately, all of the House and Senate Republicans fully backing the President . . . well, maybe that's a bit much. Most of the House and Senate Republicans actually acknowledge that Donald Trump is President of the United States. I think that's true but I might be wrong here.
And House and Senate Leadership really used the first two years of the Trump presidency to move the country back from the brink of Barack Obama . . . no, I guess, that's not right. House and Senate Leadership didn't impede everything the president was trying to accomplish.
Fortunately, one man rose to the occasion — Lindsey Graham . . . Lindsey Graham . . . I just sit here shaking my head.
The only good news is that the Republican Party can once again return to what it does best — fund raise as the underdog. They sure didn't know how to do it as the winners.
NOTE: Snort, guffaw. Sometimes I really amuse myself!